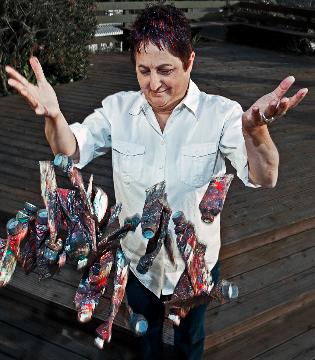 About the Artist

Vera Arutyunyan was born on June 28, 1958 in Yerevan, Armenia. In 1991 Vera
moved to United States and currently lives in Los Angeles, California.
She is an abstract expressionist artist with a flow of the figurative expressions, all
emotionally and spiritually charged.
Vera's works show roughly executed surfaces that combine her dreams as well as
her concepts of reality through radiant colors and are left to the viewer to identify
with their emotions and interpret artist's intensions.
Vera Arutyunyan is a graduate of Yerevan State University. Since early
childhood, Vera demonstrated artistic talents, however, with her strong technical
inclinations and love of outdoors, after graduating from school, Vera decided to
become a geologist. While working with a group of geologists in the
mountainous Armenia, she did not waste any time capturing the beauty of her
surroundings on papers.
As Vera stated in one of her conversations with friends, she could not pass the
opportunity to take the medium and use its language to communicate her
deepest emotional and philosophical perceptions and feelings about the world
she lives in and herself to people who, like herself, seek understanding of the
wonders of natural creation and being human. Since her move to United States
in the beginning of 1990s, Vera found herself even more captivated by stronger
yearning to communicate her emotional state about her being a stranger among
strangers, her fears, her struggles to adapt to all that was so new and unknown to
her. Painting became the very tool of her inner outcry. Since then, she feels,
she's been possessed by many thousands and more of those moments when all

About The Artist


her inner visions and emotions about the world and herself were crying out loud to come out and be heard. Words of the soul that is looking for philosophical
and religious answers of what lies deep within human psyche, words of despair in the world in which we strangely at home and yet lost at the same time. Words
of powerful love for life, for God and spirituality: emotional words so natural and powerful, that could only be expressed through paintings hoping to be
understood, obtain identity and significance, become securely existent.


Art in America Magazine.

La Gazette Des Arts, Paris
.

New
York Art Magazine Article.

Arte News Magazine
Article
.

Vera's Art Review Video.

Amsterdam Whitney Gallery Article
.

The Armenian Reporter Article.

Art Business News Article.

Publications
.

Los Angeles Mayor's Certificate
.

Certificate of Achievement.

Creating an Abstract Art Painting Video.

V
era's art in permanent collection of The Latino Museum, LA
.


Vera's artwork can be viewed at the

Orlando Gallery,

Contemporary
Art
Network, N
Y
,

Upstream Pepole Gallery
,

Broadway Gallery, NY,

Saatchi Gallery, London UK.

ARTSlant
Gallery
.

The Armenian Reporter.

Art Tribe.


Contact Information:

artistvera
@yahoo.com

VeraArts.com